Our Services
Serving Cumberland County
Look no further. Rock Towing is your one-stop automotive resource, offering tow truck service, roadside service, auto storage, repairs, junk car removal, and more! We feature top-of-the-line equipment to ensure prompt service, and we are available 24/7 for your peace of mind. Call us anytime at 856-305-3487 to schedule your appointment or learn more about our services:

* Towing
* Roadside Assistance
* Vehicle Storage
* Motorcycle Towing
* Automotive Repair
* Junk Car Removal
* Auto Lockout Service
* Tire Changing
* Battery Exchanging
* Flat Tire Repair
* Winch Service
* 24 Hour Emergency Service
* Insurance Services
About Us
Towing Vineland NJ
Why let a car problem ruin your day? Rock Towing provides fast, reliable towing service and roadside assistance, 24 hours a day, 7 days a week. Our other specialties include vehicle storage, junk car removal, auto repair, and much more. Let us be your rock! Any time you need a little roadside help, rest assured we will be here.

Our mission is to offer you, our valued customer, the best experience in the towing industry. Whether you need a tow or roadside assistance, we will come to your rescue fast, deliver outstanding service, and get you on your before way you know it. We proudly offer car, truck, and motorcycle towing services, all at fair and reasonable rates. Rock Towing is also your one-stop source for affordable auto storage solutions, insurance services, junk car removals, battery exchanges, general auto repairs, and much more.

Based in Vineland, NJ, Rock Towing has served the local community with integrity for over 15 years. We proudly offer 24-hour tow truck service, roadside assistance, auto storage, repairs and more to both residential and commercial clients. To schedule service or find out more, call us anytime at 856-305-3487.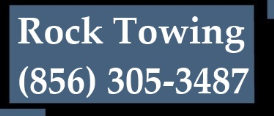 Towing Vineland NJ
---
https://vinelandtowing.com
Payment Methods
Master Card, VISA, American Express, Discover, Cash, Invoice